No more problems during Tummy Time!

✔ Strengthen Your Infant's Muscles - Help your baby build the strength in his/her legs, back and neck much faster thanks to water's higher resistance.

✔ Develop Your Kid's Cognitive and Motor Skills - As your baby plays with it and moves the fish around, he/she will develop better hand-eye coordination and have a finer understanding of cause and effect.

✔ Take It With You Everywhere You Go - Tummy Time is super easy to set up, store and transport. Let your child play with his favorite water mat even when you're traveling!

✔ 100% Leakproof, Long-lasting and Durable - Our Tummy Time Premium Water Mats™ are made of durable 100% BPA-free & non-toxic heavy-duty PVC materials. Each of our playmats has been STRICTLY tested in order to ensure no leaks and maximum durability.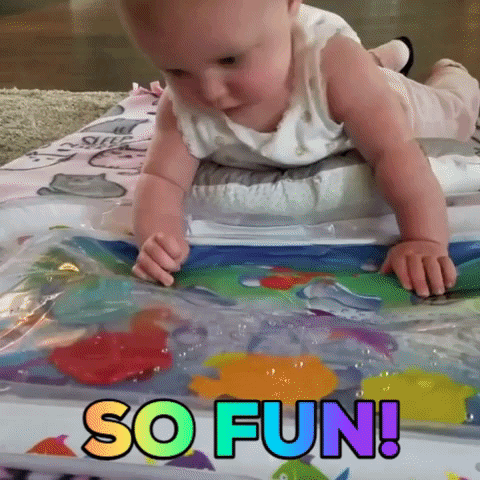 Under the sea exploration is at your baby's fingertips with Tummy Time Premium Water Mat™. Simply fill the center of the playmat with water and blow up the outer rim with air. During seated play and tummy time, the baby can make the floating sea creatures and shapes move under the surface.
Perfect for naturally curious kids, this hands-on activity introduces cause and effect as they touch the mat and watch the underwater creatures swim. Tummy Time Premium Water Mat™ helps to engage babies as they develop their gross motor skills.
Cleanup is easy — just drain the water and air, wipe down the mat and fold up for storage or travel. Explore the wonder of water and sensory play wherever you go.
Be it rain or sunshine, youngsters can have fun anywhere with this brightly colored inflatable play mat that has a wonderful underwater seascape.
A CINCH TO SET UP: Simply fill the outer ring with air and the inner mat with your desired level of tap water (or any kind of water!), set it on the floor and let the fun begin! When emptied, it folds easily straight into your purse or toy bag to bring along everywhere you go.
---
Product specifications
Material: 0.3 Food Grade 16P Environmental PVC
Size: 26" x 20" x 4" / 66 x 50 x 10cm
Weight: 0.7 lb / 317g
Age Range: 3 months & up